1. What is Korea's Target Management Scheme?
Designed for achieving GHG reduction goals and promoting mitigation capabilities, Target Management Scheme is a system in which large-scale facilities emitting a substantial quantity of greenhouse gases and consuming a high level of energy are imposed GHG reduction and energy conservation targets
Principles of TMS
Advancement of Regulations

Consider conditions for domestic industries
Consider international trends
Prevent double regulation(GHG-energy integrated management)

Become one of the world's green leaders

Nurture Green Industry and improve national economy
Achieve the national mid-term GHG mitigation target(30% reduction below 2020 BAU levels)
Major Consideration for Implementation of TMS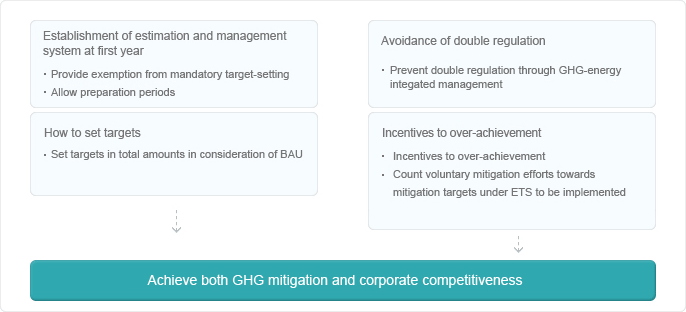 Establishment of estimation and management system at first year

- Provide exemption from mandatory target-setting
- Allow preparation periods

Avoidance of double regulation

- Prevent double regulation through GHG-energy integated management

How to set targets

- Set targets in total amounts in consideration of BAU

Set targets in total amounts in consideration of BAU

- Provide incentives to Green Management
- Count voluntary mitigation efforts towards mitigation targets under ETS to be implemented
2. How are the Controlled Entities designated?
Companies and facilities with high levels of GHG emissions and energy consumption are designated as Controlled Entities and subject to management under the Framework Act on Low Carbon Green Growth (enforcement on April 14, 2010) and Guidelines for the Operation of Target Management Scheme (amended on November 5, 2011 by Notification No. 2012-211 of Ministry of Environment).
Criteria for Designation of Controlled Entities
2010 - 2011

A company with 125,000 tCO2eq of GHG emissions and 500 TJ (Terajoule) of energy consumption
A facility with 25,000 tCO2eq of GHG emissions and 100 TJ of energy consumption

2012 - 2013

A company with 87,000 tCO2eq of GHG emissions and 350 TJ of energy consumption
A facility with 20,000 tCO2eq of GHG emissions and 90 TJ of energy consumption

Beginning 2014

A company with 50,000 tCO2eq of GHG emissions and 200 TJ of energy consumption
A facility with 15,000 t2eq of GHG emissions and 80 TJ of energy consumption
온실가스, 에너지 소비 관리업체 지정기준 (령 제29조 제1항)
2010~2011
2012~2013
Beginning 2014
Company
Facility
Company
Facility
Company
Facility
GHG Emission
(CO2-eq ton)
125,000 or higher
25,000 or higher
87,500 or higher
20,000 or higher
50,000 or higher
15,000 or higher
Energy
Consumption
(Tera Joule)
500 or higher
100 or higher
350 or higher
90 or higher
200 or higher
80 or higher
3. What role does each government department play for TMS?
Ministry of Environment

Ministry of Environment supervises the operation of TMS, establishes related guidelines, checks double designation or omission of entities and ensures the adequacy of regulations. It also designates, manages and provides training to verifying institutes and personnel.

Controlling Department for Each Sector

Controlling Departments designate and manage Controlled Entities, establish GHG reduction targets, evaluate objections against designations and review Emissions Reports and Implementation Reports.

Greenhouse Gas Inventory & Research Center (GIR)

GIR establishes and manages the National GHG Management System, operates an evaluation committee, support national and sectoral GHG reduction target setting, verify and manage GHG related statistics and cooperate with international organizations and developing countries for global GHG mitigation.
Role of Each Party under TMS

4. How is TMS operated?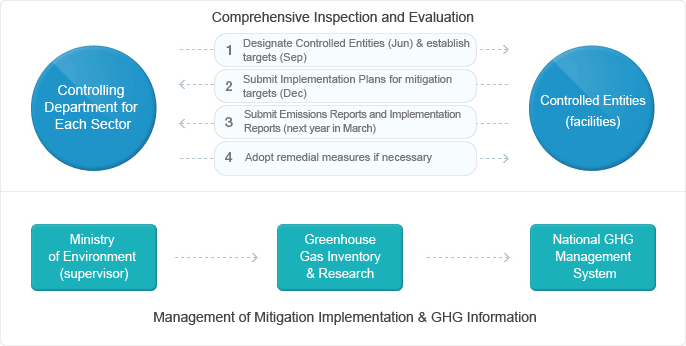 1st Stage : Designate Controlled Entities
When companies submit reports on previous emissions to the Controlling Departments, Controlling Departments for each sector
designate Controlled Entities and establish their GHG emissions targets after Controlling Departments and GIR review the reports for double counting or omission.

Pre-select Controlled Entities (Mar)
Screen for double selection and omission, and ensure accuracy
Designate and announce Controlled Entities (Jun)
2nd Stage : Submit Implementation Plan for Mitigation Target
Controlled Entities submit Implementation Plans for achieving mitigation targets.
Establishment and Submission of Implementation Plan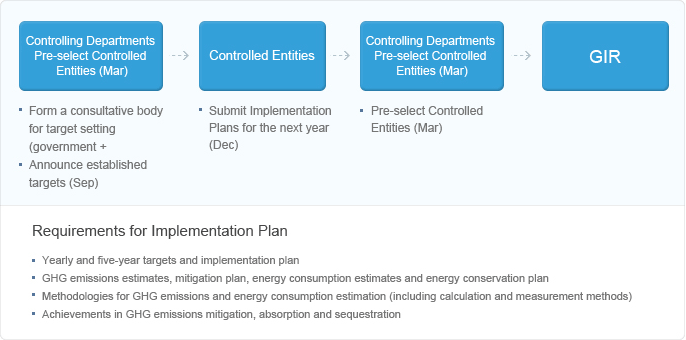 Controlling Departments Pre-select Controlled Entities (Mar) -

Form a consultative body for target setting (government + nongovernment experts),

Announce established targets (Sep)

Controlled Entities -

Submit Implementation Plans for the next year (Dec)

Controlling Departments Pre-select Controlled Entities (Mar) -

Pre-select Controlled Entities (Mar)

GIR
Requirements for Implementation Plan
Yearly and five-year targets and implementation plan
GHG emissions estimates, mitigation plan, energy consumption estimates and energy conservation plan
Methodologies for GHG emissions and energy consumption estimation (including calculation and measurement methods)
Achievements in GHG emissions mitigation, absorption and sequestration
3rd Stage: Submit Emissions & Implementation Report
Controlled Entities submit an Emissions Report including the year's emissions and energy consumption estimates with an Implementation Report.
Report and MRV of Implementation

Controlled Entities - Submit Implementation Reports (next year in March)
Controlling Departments -Ensure the accuracy of reported data and MRV methods
Controlled Entities - Reflect improvements when establishing Implementation Plans
4th Stage: Evaluate Emissions and Implementation Reports and Adopt Remedial Measures
5. What IT system is used for TMS?
National GHG Management System Structure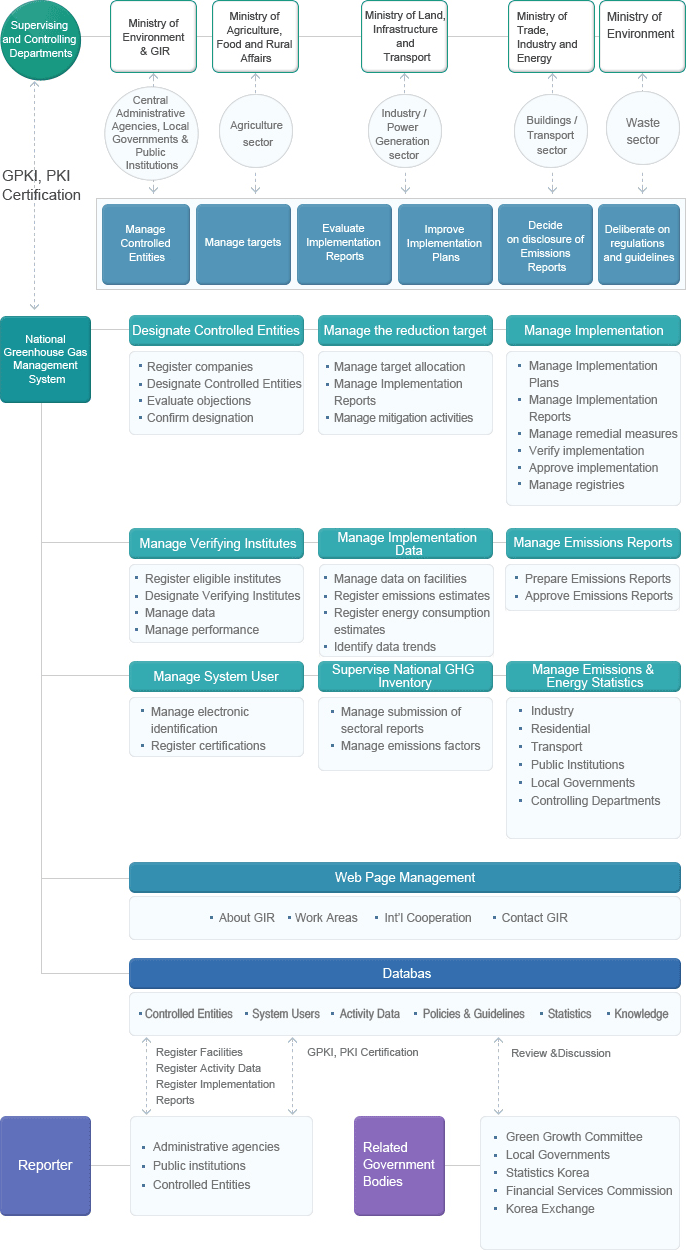 Prime Minister Ministry of Public Administration and Security
Ministry of Agriculture, Forestry and Rural Affairs
Ministry of Trade,Industry and Energy
Ministry of Land, Infrastructure and Transport
Ministry of Environment
NGMS
Select Controlled Entities

Register entities
Apply the objection
Select target entities
Notify target entities

Manage the reduction target

Allocate and manage the reduction target
Manage the reduction target
and its record Manage the reduction activities

Manage the performance

Manage the performance plan
Manage the performance record
Mange the improvement measures
Verify the performance
Approve the performance
Mange the register

Manage DNA

Register authorities
Designate the authority
Manage data
Manage records

Manage data related to the performance

Manage facilities
Register emission
Register the consumption
Check the course

Manage the statement

Create the report
Approve the report

Manage System Users

Manage electronic identification
Register certifications

Supervise National GHG Inventory

Manage submission of sectoral reports
Manage emissions factors

Manage Emissions & Energy Statistics

Industry
Residential
Transport
Public Institutions
Local Governments
Controlling Departments

Manage our homepage

About GIR
Work Areas
Int'l Cooperation
Contact GIR

Database

Controlled Entities
System Users
Activity Data
Policies & Guidelines
Statistics
Knowledge
Reporter

Administrative agencies
Public institutions
Controlled Entities

Related Government Bodies

Green Growth Committee
Local Governments
Statistics Korea
Financial Services Commission
Korea Exchange
6. Must the facility-specific Emissions Reports be always made public?
In principle, Emissions Reports are open to the public, but if a company applies for confidentiality for the reasons of business secret or else and the Evaluation Committee approves the application, the company's Report may be closed to the public.
Opening Emissions Reports to the Public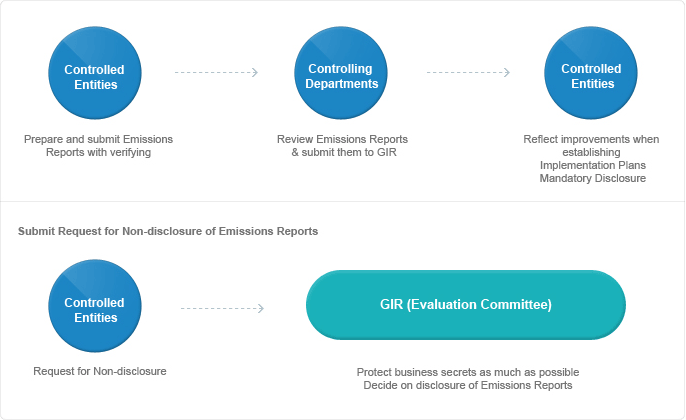 Controlled Entities - Prepare the statement for GHG and energy consumption Submit its results (Mar.)
Responsible Organization - Submit to Center after reviewing it
Controlled Entities - Include them if the performance plan is establishedPrinciples of Disclosure
Controlled Entities - Explanatory statement
GIR (Judging Committee)Maximum protection of the confidential information for businessJudge the disclosure or non-disclosure status
7. How are the verifiers designated and managed?
Verifying institutes and personnel mean third party verifiers with specific expertise who are qualified to verify Emissions Reports and Implementation Reports.
Process to Designate Verifying Institute
Review applications -> On-site investigation -> Review by Designation Consulting Group -> Request designation -> Collect opinions from Controlling Departments -> Designate Verifying Institute
※ National Institute of Environmental Research conducts the designation, registration and management of the verifiers.
Official Verifier
A person who meets qualifications including a bachelor's degree or the equivalent and three years or more of work experience may become a candidate for an official verifier.
A candidate who has conducted five or more times of verification in three years and completed the required training in seven specific sectors may become an official verifier.(More information on qualifications and designation of verifiers are detailed in the Guidelines for the Operation of Target Management Scheme.)
8. What is the detailed workflow of TMS?
The annual work cycle consists of the designation of Controlled Entities, target setting, verification of Implementation Plans and that of Implementation Reports.
TMS Work Flow for Controlled Entities Designated in 2010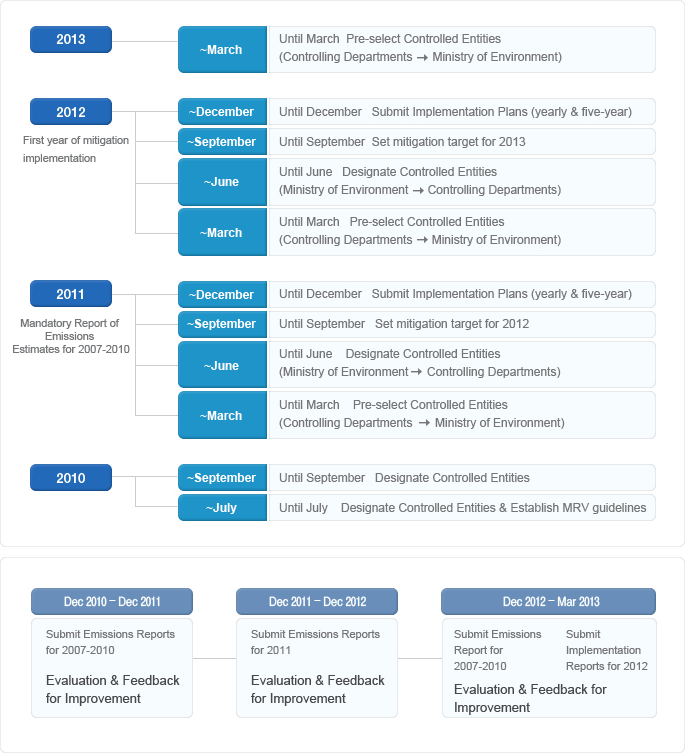 2013년

2013

March : Pre-select controlled entities (relevant ministry and agency → Ministry of Environment)

2012 (1st year of reduction )

December : Submit implementation plan (by 5 years/yearly)
September : Set reduction target (for 2013)
June : Designate controlled entities (third) (Ministry of Environment → relevant ministry and agency)
March : Pre-select controlled entities (relevant ministry and agency → Ministry of Environment)

2011 (Obligatory reporting of emission )

December : Submit implementation plan (by 5 years/yearly)
September : Set reduction target (for 2012)
June : Designate controlled entities (second) (Ministry of Environment → relevant ministry and agency)
March : Pre-select controlled entities (relevant ministry and agency → Ministry of Environment)

2010

September : Designate controlled entities (first)
July : Designate controlled entities and development of MRV guideline

TMS Work Flow for Controlled Entities Designated in 2011

2014

March : Submit statements and performance records (for 2013)

2013

December : Submit implementation plan (for 2014)
September : Set reduction target (for 2014)
March : Submit statements (for 2012)

2012

December : Submit implementation plan (for 2013)
September : Set reduction target (for 2013)
June : Submit statements (for 2008~2011)

2011

June : Designate controlled entities